SILCA® fire protection boards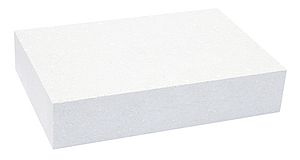 SILCA® fire protection boards are homogeneous, insulating boards based on porous, lightweight calcium silicate. They are available in large sizes, are dimensionally stable and self-supporting. Since they have been pressed to their final thickness, they have a firm surface.
SILCA® fire protection boards are physiologically harmless and have been evaluated by the Arbeitsgemeinschaft Umweltverträgliches Bauprodukt e.V. as an environmentally friendly building product. They are disposed of as construction rubble.
SILCA® 200, SILCA® 170SB, SILCA® 250SB, SILCA® T300 and SILCA® T500 are fire protection boards specially developed and approved for interior work on ships and in buildings. Thanks to their outstanding properties in respect of fires, they have proved themselves in a multitude of applications as fire protection doors, fire protection gates, safety lockers and fire protection containers.
Possible applications in fire protection are e. g. Ventilation ducts, gas flue shafts, fire dampers, wall ducts, doors, gates, walls, ceilings, IT safety cabinets and safes.
For load bearing fire protection structures we recommend our SILCAPAN 845.
Machining can be carried out with conventional woodworking machines. As a result of the high strength values. An appropriate dust extraction system should be provided when using machines. On request we can supply finished blanks in accordance with your requirements.
large sizes up to 3.000 x 1.250 mm
environmentally friendly building product
easy processing with screws, clamps or adhesive