SILCADUR / SILCASIL adhesives
B 90, U 95, 126 hardener, 130 coating, 130 adhesive, B 165S, CSMH, 320
Regarding temperature resistance and application SILCADUR products are specifically adapted to the wide range of our insulating materials.
The quality of a refractory lining or a technical thermal insulation is crucially determined by the mortars, adhesives, hardeners and other auxiliary agents. High-quality raw materials and appropriate bonding systems are a prerequisite for the thermal stability. Good homogeneity, adhesion and workability are the basis for a cost-effective assembly.
SILCADUR products are to be stored and transported frost-free (min +5 °C). Unless otherwise stated, the shelf life of unopened packages is six months. Opened packages have to be tested for their suitability before use.
SILCASIL 320 cartridge and tube
SILCASIL 320 is a high-temperature silicone with excellent adhesive strength and a high temperature-resistance of up to 320 °C. The product is available in resealable tubes of 100 ml or cartridges of 310 ml.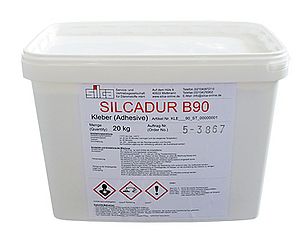 Powdery two-component adhesive to be mixed with water. It has proven to be suitable for the bonding of SILCABLOCK and SILCAPACK on expanded metal grids. It has good adhesive properties and also provides acid resistance for the expanded metal grid. During assembly the adhesive can be adjusted to the desired consistency. After hardening SILCADUR-B 90 is waterproof.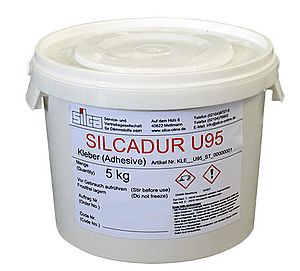 Pasty high temperature adhesive ready for use. It can be used as mounting aid for SILCAL and SILCAMIN boards except for the overhanging sections. For its composition of inorganic soluble glass SILCADUR U95 is soluble in water to a limited extent.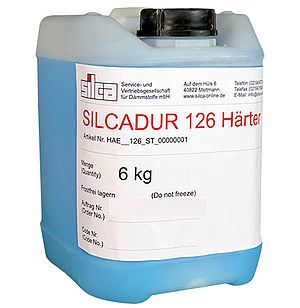 Inorganic liquid ready for use that can be applied by brush or roller or even be sprayed on. SILCADUR hardener serves for the surface compaction of fibre surfaces from high temperature wool. After drying it improves the fibre bonding on the surface, especially on increased exhaust gas velocities free of particles.
Coating ready for use for the surface treatment of fibre products. For its creamy consistency it can be applied by brush or scrubber. The addition of water is limited to max. 5%. At room temperature the coating sets on contact with air. When applying to vacuum formed products make sure that only the pores on the surface are sealed. In order to avoid a spalling of the coating the maximum layer thickness should not exceed one millimetre.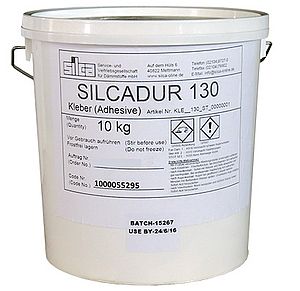 Adhesive ready for use for the bonding of fibre products on different surfaces. For its pasty consistency it can be applied by trowel or brush and at room temperature it sets on contact with air. On demand up to 5% of water can be added. Porous surfaces have to be pre-moistured.
SILCADUR-B 165S adhesive / mortar filler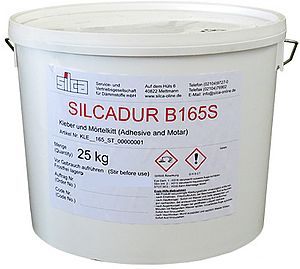 Mortar filler ready for use for refractory bricks or light-weight refractory bricks, must be mixed thoroughly before use.
Assembly and repair adhesive on inorganic basis with a maximum application temperature of 1.300 °C for the bonding of dense calcium silicates and other refractory construction materials or as mounting aid for the bonding of metals. The drying time depends on temperature and humidity and should take at least 24 hours.
homogeneous
ready for use
high temperature resistance
good adhesive power
good chemical resistance