SILCACON
Plaster system for SILCA® 250KM and SILCAHEAT® 600C
SILCA® 250KM and SILCAHEAT® 600C allows a fast, simple and safe lining of fireplaces with inactive surface. According to the customer's desire SILCA® 250KM may be plastered or decorated with natural stone or stove tiles.
In this case the large-sized insulation board is used as construction board and applied in the area of blankets, side claddings or wooden panels. Even special individual customer demands like e.g. the installation of flat screens can be easily realized. The separation distances within the heating chambers and the ventilation grids have to be executed according to the manufacturer instructions and technical rules.
The SILCACON system consists of different components which complement one another. Therefore, it meets the most different customers' desires regarding the surface finish. SILCACON – simple, fast and safe lining of modern fireplaces!
SILCACON adhesive is a high-quality adhesive mortar which is ready for use after mixing with water and hardens hydraulically. It is a pre-mixed hydraulically setting dry mortar with cement according to DIN 1164 and with high-quality filler additives which has to be mixed with clean water. It serves to bond SILCA® 250KM insulation boards applied in the exterior (cold) construction of fireplaces and tiled stoves.
Please make sure that SILCACON adhesive is never applied for the installation of SILCA® 250KM insulation boards in the interior stove. In order to obtain the required fire and heat protection of the protective wall from inside our SILCADUR HFS adhesive which is technically approved has to be applied in the interior stove.
SILCACON adhesive is also applicable to any mineral material for wall construction and grounds suitable for plaster, e. g. brickwork of materials with hydraulically hardened binders according to DIN 1164, DIN 1060, DIN 4211 as well as brickwork of natural materials which are standardised or approved by the construction supervising board according to DIN 1053 (e.g. porous concrete, common bricks and lime sand brick).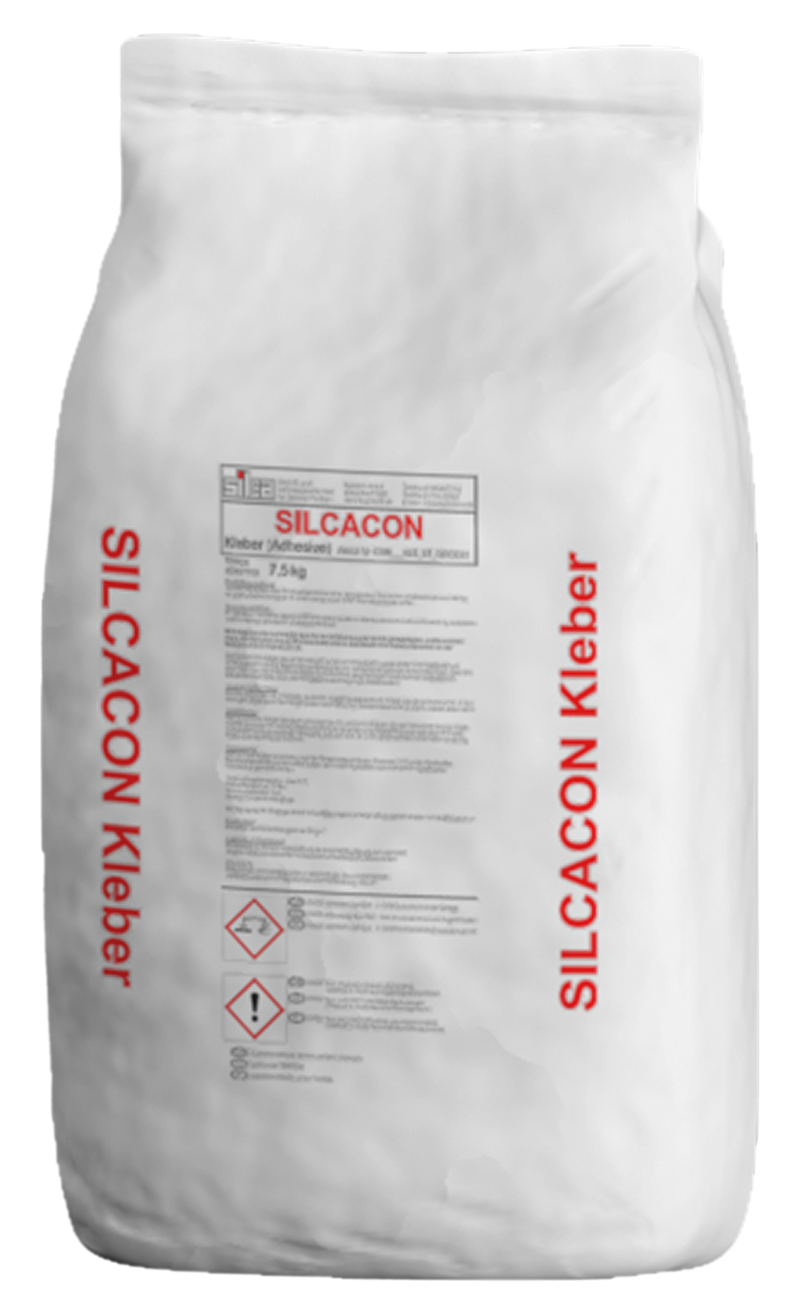 SILCACON first coat / deep primer
SILCACON first coat / deep primer serves to treat the surface of the SILCA® 250KM insulation boards before applying the lime plaster and smoothing lime and should also be applied to the surface before bonding different boards. The first coat reduces the capillary activity of the SILCA® 250KM board and thereby slightly hardens the surface.
SILCACON first coat is died with clean water in a ratio of 1:2 / 1:3 and can be applied by brush, roll or spraying device. The treated surface becomes slightly blue, for further treatment the surface must be dry. The working environment must be sufficiently ventilated. As long as the first coat has not dried, the working equipment can be cleaned with water.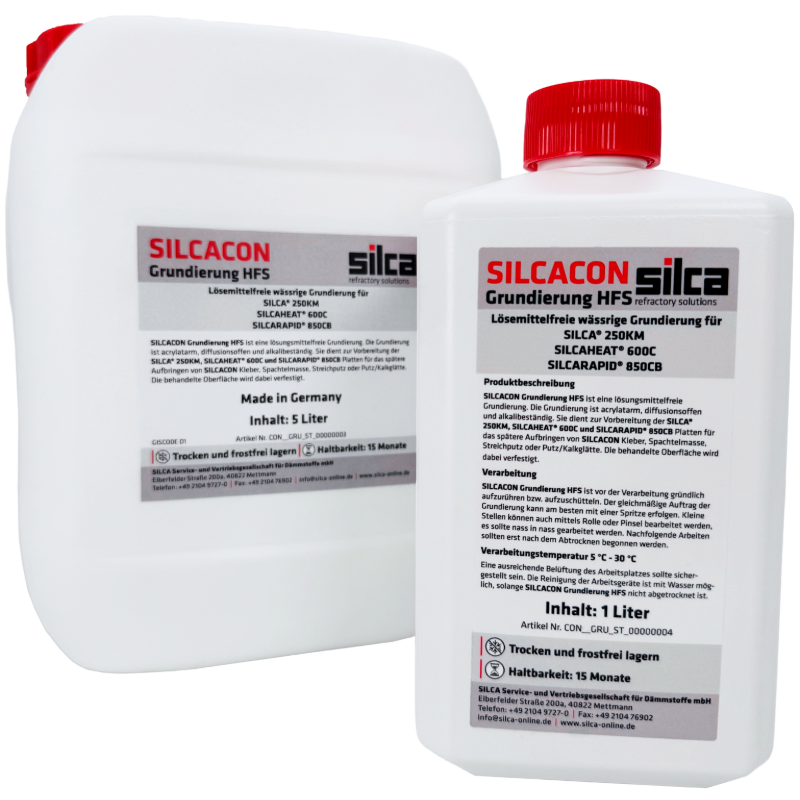 SILCACON lime plaster – natural white
SILCACON lime plaster with a grain diameter of 0 – 1,2 mm is applied to the surface of the boards pre-treated with SILCACON first coat and well dried. For the connection of boards and for general reinforcement we suggest inserting additionally SILCATEX-SE glass mesh fabric.
The lime plaster can be coated in one or two steps. The first plaster layer should be in a range of 5 – 10 mm. According to the certificate of national technical approval the maximum thickness of the total layer is specified to be 15 mm.
SILCACON smoothing lime – natural white
SILCACON smoothing lime can be applied either directly onto the first coated SILCA® 250KM board or as last layer onto the lime plaster in order to smooth the surface. The maximum thickness of layer is 1 mm; according to the certificate of national technical approval it is limited to a total thickness of 2 mm. For further details regarding the handling of our SILCACON products please pay attention to our instructions on the corresponding packaging.