SILCABOARD and SILCASAL
SILCABOARD boards are vacuum-shaped high temperature insulating boards of special mixtures of ceramic fibres. The different bulk densities and classification temperatures in which the product is available make it possible for the boards to be used in very different areas in the construction of furnaces, machines and apparatuses as well as also in the aluminium industry.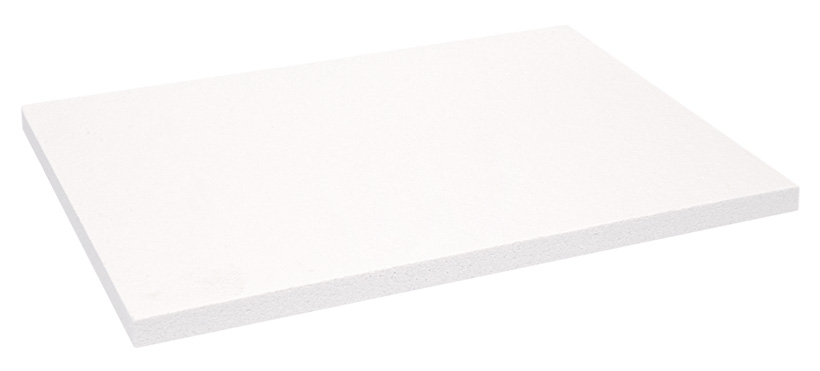 SILCABOARD boards have a good level of homogeneity and a high level of dimensional stability. Qualities 126-35 and 140Z are characterized by good strength and have proved themselves for front-side use. The maximum application temperature depends on the particular construction and in cases of doubt should be discussed with our Technical Department.
SILCASAL boards are bound with organic binders. They are manufactured by pressing and thereby possess high bulk density in combination with good mechanical strength. They are very well suited for thin intermediate layers for reducing thermal bridges.
SILCASAL 85-97B is manufactured of bio-degradable mineral wool and fillers. The synthetic mineral fibres used are not classified as hazardous material in accordance with GHS/CLP CE N°1272/2008.
SILCASAL 110-96B is a board based on wollastonite and contains no synthetic mineral fibres.
SILCABOARD 110-50 is an inorganic, double-hardened ceramic fibre board. By reason of its special mechanical strength, it is used, for example, for the lightweight lining of launder systems in the aluminium industry.
Machining
SILCABOARD and SILCASAL boards can be machined using woodworking machines. An appropriate dust extraction system should be provided.
SILCASAL boards can be matched to curved shapes by moistening them. After they have dried out again, the boards regain their initial strength.
Note:
Our EG safety data sheet will inform you on the protective measures to be taken when handling ceramic fibres as well as on the related health risks.
low thermal conductivity
resistant to high temperatures
good resistance to temperature changes
good machinability