Non-ferrous metal casting
SILCA is specialized in different applications of non-ferrous metal casting. As a manufacturer of calcium silicates for the fields of electrolysis, low-pressure casting, gravity casting, chill casting, melt transport etc. we produce innovative and performance improving products exactly according to your demand.
In our CALCAST® product range you will find a suitable material for any application, CALCAST® CC60 with its pseudoplastic fracture behaviour due to the integrated carbon fibres, CALCAST® CC100-CC150, which is excellently suited for the production of nozzles, floaters, bushes as well as transition plates and CALCAST® CC 350 for the manufacture of feeder boxes with highest demands. In case an extremely high thermal shock resistance is required CALCAST® CC500 will be the first choice. The CALCAST® product group is completed by CALCAST® CC155 G4/G8/G16. Thanks to the combination of calcium silicate and graphite these materials have an increased thermal conductivity adjusted to your requirements.
For more detailed information we refer to the corresponding product data sheets on the respective product pages.
Quality to convince in the long term requires the systematic cooperation of all parties involved in manufacture, sales and application. Thus, we develop efficient products which satisfy the high quality requirements of our customers. In this process we rely on our more than 30 years of growing know-how which is the basis for our quality and innovation.
pressure casting
rim casting
chill casting
low-pressure casting
gravity casting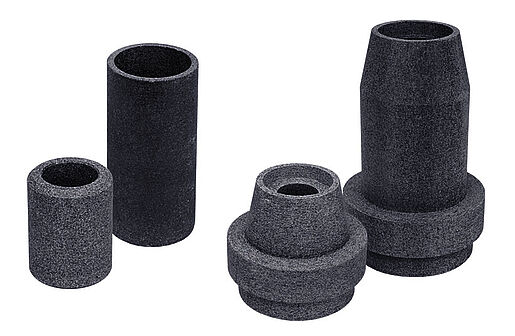 Non-ferrous metal casting - products
Get in contact
Silca Service- und Vertriebsgesellschaft für Dämmstoffe mbH
Elberfelder Str. 200a
40822 Mettmann
phone +49 2104 9727-0
fax +49 2104 76902
email info@silca-online.de