SILCAHEAT® 600C
Construction board for fireplaces
SILCAHEAT® 600C is an innovative board for the construction of fireplaces. It combines the natural desire for thermal radiation in the operation of domestic fireplaces with the modern requirements on a construction material for easy and fast assembling of fireplaces.
SILCAHEAT® 600C is a high temperature resistant hybrid material composed of calcium silicate and carbon. Due to the high proportion of graphite the construction board has excellent heat conducting properties for the lining of fireplaces.
SILCAHEAT® 600C is not an insulation board!
SILCAHEAT® 600C meets the requirements of the technical rules for the stove and air heating construction TR-OL, according to section 3.1 as construction material and component in the heating chamber resp. convection chamber. SILCAHEAT® 600C will also fulfill the requirements according to DIN EN 14306.
SILCA® 250KM calcium silicate insulation boards have proved to work very well in the insulation of the mounting surface as well as in the construction of domestic fire places. The easy and fast handling of the calcium silicate insulation board allows a safe and economic assembling of the fireplace. The design options are nearly unlimited. The high quality as insulation board is the only feature that involves certain natural limitations regarding the heat radiation in the room of the fireplace. Our newest SILCA product innovation shows that our customers' desires and suggestions could be realized and even surpassed. Our longtime experience as only German producer of calcium silicate boards for the application in domestic fireplaces enabled us to develop the construction board for fireplaces SILCAHEAT® 600C.
The European Patent Office issued patent number EP251634781 for our innovation.
SILCAHEAT® 600C is certified by the Materialprüfungsamt NRW (Materials Testing Office of North Rhine Westphalia).
SILCAHEAT® 600C is a construction board for fireplaces of the newest generation. Being applicable up to 1000 °C it convinces with a light weight and at the sa me time high compressive strength and excellent edge stability. The radiant heat is given off to the room in a comfortable and homogeneous way. SILCAHEAT® 600C is thermal shock resistant, precisely treatable and despite its good thermal conductivity has only a very low thermal expansion. Of course the construction board for fireplaces is free of asbestos. Cuttings and residues can be disposed of as building waste.
SILCAHEAT 600C construction board for fireplaces
Your advantages at a glance
extremely light
optimum stability
very good dimensional accuracy
good radiation properties
extremely low thermal expansion
non-combustible
self-supporting and dimensionally stable
not soluble in water – suitable for wet and dry cutting
assembly with adhesive and / or screws
enormous saving of time on assembly
optimum material combination with SILCA® 250KM
environmentally compatible
The treatment of SILCAHEAT® 600C is easy, fast and safe. The solid self-supporting construction boards for fireplaces can be treated with standard wood machining tools and bonded with SILCACON adhesive. Countersunk screws can be used without pre-drilling, this multiplies the possibilities of assembling. According to the customers' desires SILCAHEAT® 600C construction boards for fireplaces may be plastered or decorated with natural stone or stove tiles after mounting.
SILCACON lime plaster and SILCACON smoothing lime can be used for plastering of the SILCAHEAT® 600C construction board for fireplaces. As treatment before plastering or further decoration e.g. with stove tiles or natural stone we suggest SILCACON primer HFS.
The plaster is reinforced with heat-resistant SILCATEX-SE glass mesh fabric.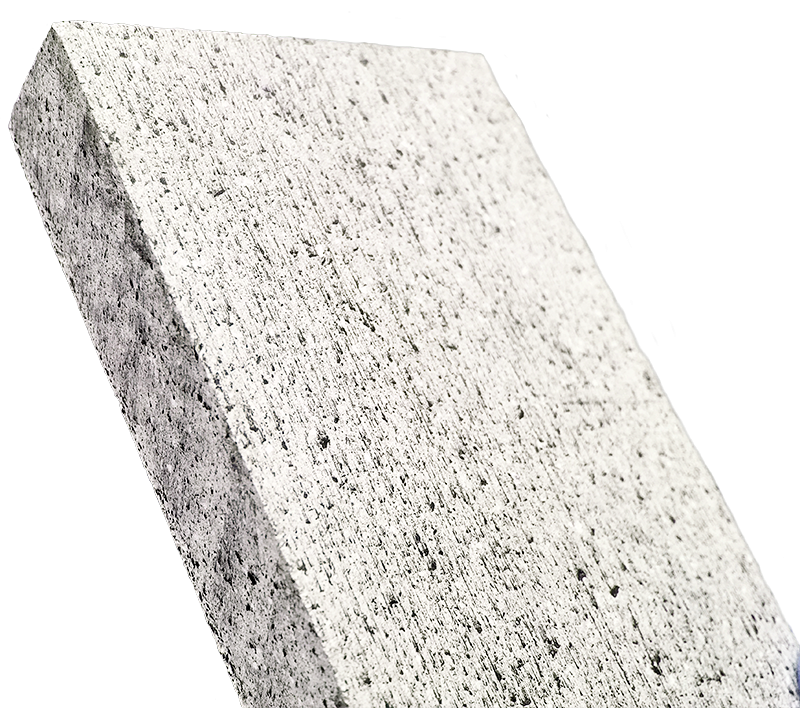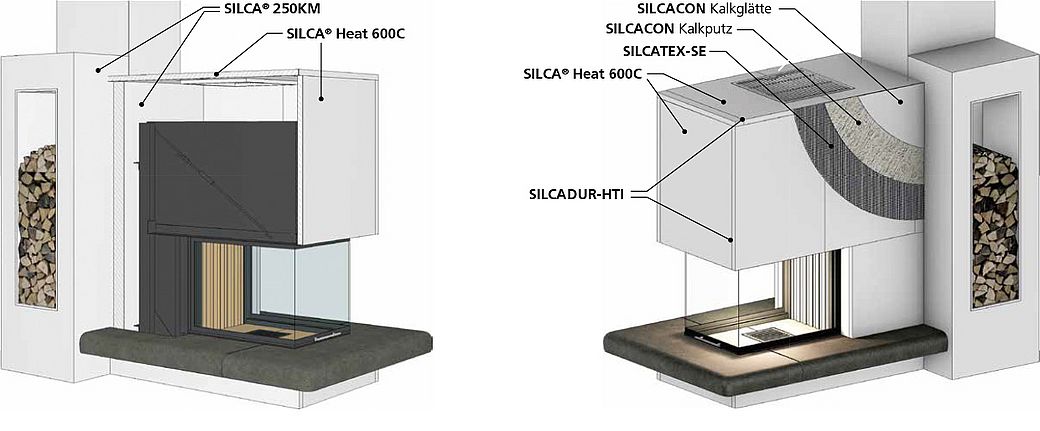 Material designation: SILCAHEAT® 600C
Product standard
DIN EN 14306
Bulk density
650 kg /m³
Reaction to fire
Non-combustible A1
Temperature limit of application
1.000 °C
Compressive strength
7,0 MPa
Bending strength
3,0 MPa
Thermal conductivity λ
300 °C – 800 °C
≈ 0,2 – 0,3 W/m K
Thermal expansion at 500 °C
- 0,03 %
Dimensions
1.000x625, 1.250x500, 1.250x1.000 mm
Thickness
25 and 35 mm
Get in contact
Silca Service- und Vertriebsgesellschaft für Dämmstoffe mbH
Elberfelder Str. 200a
40822 Mettmann
Phone +49 2104 9727-0
Fax +49 2104 76902
Email info@silca-online.de