SILCAPOR
Microporous insulating board
SILCAPOR is a light microporous insulating material for back-up insulation with extremely good thermal insulation properties. SILCAPOR are inorganic boards on the basis of highly dispersed amorphous silica with special infrared opacifier. SILCAPOR is non-flammable and available with different laminations of aluminium foil or glass fibre fleece.
SILCAPOR Shape 950 is a microporous insulation material with an extremely low coefficient of thermal conductivity, i. e. with very good insulation properties.
SILCAPOR Ultra 950 and SILCAPOR High 1050 are srigid board. For the protection of the microporous structure they are available with different coatings (PE foil, aluminium foil, glass fibre fleece). Besides the dust-free handling depending on the variant there is an additional protection against humidity.
SILCAPOR-FP 1050 is a thin, flexible board. The coating with bio-soluble felt (thickness of approx. 0,5 mm) on both sides as well as the standard cover with PE foil ensure an easy and dust-free handling.
The fibres used for mechanical strengthening are not respirable according to the definition of the WHO. SILCAPOR is no dangerous good according to Regulation (EC) No. 1907/2006, it does not release any hazardous decomposition products an does not cause any health risk for human beings according to current knowledge.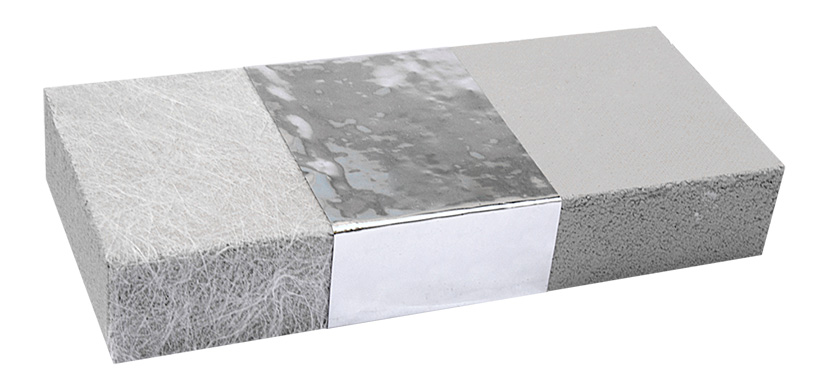 Wetting with liquids e.g. water, oil, petrol etc. irreversibly destroys the microporous structure of the material and has a negative impact on the thermal conductivity. Suitable surface treatment or lamination with aluminium foil prevents or clearly reduces the penetration of liquids. However, vapour diffusions do not produce any negative impacts since the insulating material is diffusion-stable.
SILCAPOR is to be stored and processed in dry surroundings and has an unlimited shelf life.
microporous
extremely good thermal insulationproperties
light
low thermal shrinkage
availability of different surface laminations
dimensionally stable
flexible (SILCAPOR-FP 1050)
good for processing
resistant against thermal and cold shocks